Today marks one month since the Japan Tour, where CEO and co-founder of Vivaldi Jon von Tetzchner, COO and co-founder Tatsuki Tomita, and designer and community specialist Akira Hojo, travelled to Tokyo to unveil the preview of our long-awaited version for iOS. Friday the 16th was a particularly busy day, with the team holding a press conference at the Embassy of Iceland in the morning and a user meetup in the evening, where they got to know some of Vivaldi's biggest fans in Japan.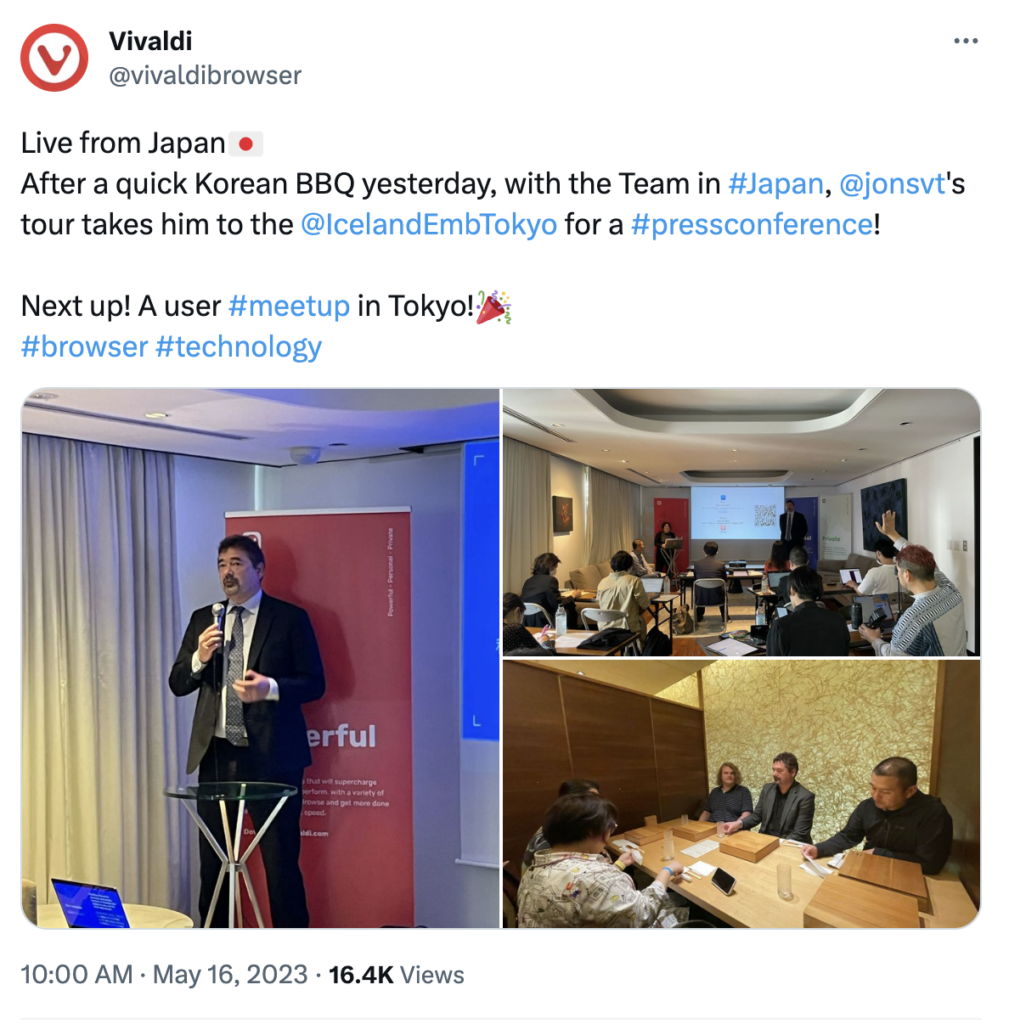 There are currently five Vivaldi Ambassadors living in Japan, three of which could attend the event: Kazuhito, Array and Genki. We have asked them to share their impressions with us!
The doors opened at 6:30, and by 7PM the room was full with the 40 participants that had signed up (which was the maximum capacity of the venue). The event was steered by Vivaldi's PR representative in Japan, Kaori Kotobuki. After a brief welcome speech by Jon and Tatsuki, the users were encouraged to share presentations of anything related to Vivaldi, such as their browsing tips or customization of their browser.
"Throughout the presentations, I strongly felt everyone's commitment to Vivaldi and "love" for Vivaldi, even though each of them had a different approach. Although I myself have developed a love for Vivaldi in my own way, using it as my main browser on a daily basis, I was overwhelmed!"

Kazuhito
The highlight, according to Kazuhito, was the presentation done by his fellow Ambassador, Genki. The reason? He had even written a song about Vivaldi:
"Vivaldi is the only browser that allows various users to find their own special way of using it. That's why I wrote this song to support such a browser in my own unique way".

Genki
Amazing, right? After the presentations, the participants chatted for a while and also did a brief Q&A session with Jon and Tatsuki, which our Ambassadors agree was another
"It was a great honor to meet the Vivaldi team as well as to meet Vivaldi fans in Japan. In particular, Vivaldi CEO Jon is someone I admire and I think he has a very thought-provoking perspective on the state of technology, not just browsers. [I appreciate] how he took the time to talk to the various questions from the attendees in a truly sincere manner."

Genki
The atmosphere was so nice that the event went on for one more hour than it was planned. We are so grateful for our community, so before they left, we thanked everyone who participated with a bag with some Vivaldi merch.
And that's not all they got! The team surprised participants by giving them the opportunity to be among the first to install and try our iOS beta. We are inviting more people to try the new version as quickly as we can handle the feedback, so sign up for the iOS newsletter to be notified when it becomes available (if you haven't already)!
"Jon von Tetzchner, the CEO, was indeed as impressive as rumored, a great person. […] CEO Tatsuki Tomita, also seemed like a nice person. He appeared busy, but he was attentively listening to the users. […] and I also had the opportunity to meet Akira in person. I felt that everyone at Vivaldi was genuinely nice, and it made sense to me why they could create such a product. Of course, the users were also unique and diverse, which is also making it a beloved browser."

Array
A big thank you to our Ambassadors and to the rest of users who participated in the event!
Would you like to organize a user meetup in your area? Join our ambassador team and let's start planning it!
PS. In case you were curious, here are the lyrics for Genki's song. Enjoy!
What browser are you using? Are you just using something you came across?
Well, that's fine, but maybe you could do it a little better.
I'd like to introduce you to something more interesting.
Tabs are all over the place before I know it. Which tab was I just looking at?
There are no such situations. Vivaldi, so easy. With Vivaldi, it's so easy!
Tab stack makes it easy to organize tabs. Tab tiling for split display,
two-level tab stacks are really crazy (in a good way).
And also Tab Thumbnails, Tab Cycles, Window Panels, and Workspaces.
I'm impressed with Vivaldi. I know I can do well with you,
thanks to your customizability and all those packed features that touch your heart.
Are you wearing the shoes you like? Every day, are you enjoying selecting your clothes?
You can also enjoy that experience on a browser.
With Vivaldi, you can choose the color, the layout of the buttons, sizes, and icons as you like.
And if you want, it's okay to have the tab bar at the bottom.
Email, Calendar, Contacts, Notes,
Feed Reader, Translation Panel, and the original game, Vivaldia.
[…]
Tony, Tony, how cute. What is the spirit of lava?
But Tony, Tony is so cute. You look a little different from before.[…]
Vivaldi social, I can't stop using his emoji on Vivaldi Social.