We've received a lot of wonderful themes in the Custom Icons contest, but we need your help to pick the winners.
Vivaldi 6.0 introduced a new customization option for your Vivaldi – the ability to add Custom Icons to Themes. To allow you to tap into your creative spirit, together with some friendly competition, we've been running a theme sharing contest. The deadline to submit a theme was 8th of May. A big thank you to everyone, who shared their themes.
Even if you didn't share your own theme, you can still participate in the next step. Our jury has put together a shortlist of the best themes, and now it's up to you to pick the winners.
Take a look at the submitted themes and cast a vote for your favorite below. You have until Monday the 22th of May.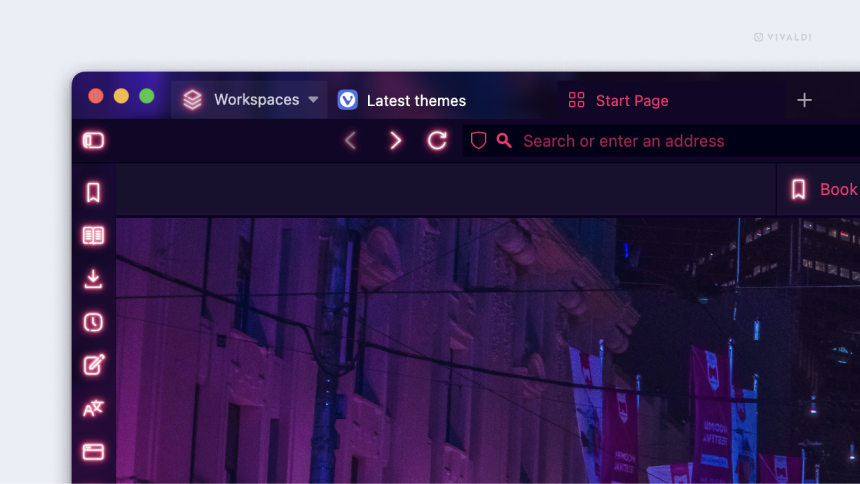 Winners will be announced on the 23rd of May. The three themes with the most votes will receive a prize pack with a portable Bluetooth speaker and some Vivaldi goodies.
Pick your favorite theme!
Opresto by jugami (13%, 116 Votes)
Retro Pixels by n4ndee (12%, 113 Votes)
Neon Dreams by nomadic (12%, 109 Votes)
Mood Yellow by denkuz (11%, 104 Votes)
NUVI by danielgardnerwork (9%, 86 Votes)
Mood of Business by denkuz (7%, 63 Votes)
Twemoji Blue by HKayn (6%, 53 Votes)
Vivaldi 2077 by randriantsitohaina (5%, 47 Votes)
Amiga Workbench 1.3 by MCSLOW (5%, 46 Votes)
.Phosphor Duotone by kshitij (5%, 44 Votes)
Nihongo by L (4%, 38 Votes)
Pure White by kushigro (4%, 33 Votes)
Lavender Sunshine by queni (3%, 26 Votes)
Soil Map of Kenya by alex (3%, 24 Votes)
God of War 2.0 by codder (2%, 19 Votes)
Total Voters: 576
Loading ...